Nipples bleeding when running is a common running problem among male runners. The bleeding happens when your running T-shirt rubs against your tender nipples.
This is how the bleeding happens
When you run your t-shirt moves up and down, that movement rubs on your nipples. The friction on your nipples makes them tender. Open wounds form and blood starts to flow out. When the salt from your sweat rubs on the open wounds you start feeling pain. Experts call this Nipple Chafing!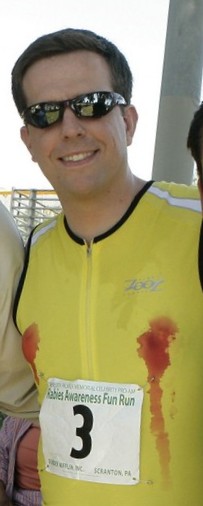 How to Avoid Bleeding Nipples
Apply a layer of vaseline over your Nipples, some marathons even offer Vaseline enroute.
Put a bandage over the nipples. This will prevent direct contact.
Another funny solution that I found at a Runners world article on this topic was this one:
Here is an easy solution, although a slightly embarrassing one… wear a ladies sports bra. They hide easily under a t-shirt and stop the chafe! Go ahead and laugh it up… I'll see you at the finish line… bloody nipple free!

Posted by: Male Runner