One clear difference between soccer fans and fans of running is soccer fans are mere spectators while we runners are both spectators and active participants. A pure spectator of running is a rare species. Although we sit to watch elite runners compete, we also wear our running shoes and hit the road.
Yesterday I decided to become a soccer fan and attended a World Cup qualifier match between our national team, Kenya and Guinea.
While local athletics meetings struggle to attract spectators I was among the 30,000 who packed the national stadium to cheer Kenya to a 2:o win. Kenya Athletics federation must have been envious of the large crowd. Even when the Kenya athletics federation allow fans to get in free, the fans who care to take the free offer are counted in hundreds.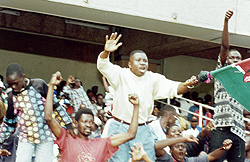 I loved the goals scored by our soccer team but what I loved more was doing the Mexican wave. I think its in me, am not content being a mere spectator I also want to be a participant.  No wonder running is my first love.
I wish you a week full of love and peace.