The number of athlete choosing to skip beijing olympics games went a notch higher when 2004 Olympic Bronze medallist, Vanderlei de Lima, joined Ethiopian Haile Gebresellassie(skipping marathon but running 10,000) and Kenyan Paul Tergat.
According to Reuters, my hero from 2004 Athens Olympics withdrew due to injury.
Remember this ugly scene from  2004 Olympic Games.
The Brazilian runner was attacked by a spectator while leading the marathon at the 2004 Olympic Games in Athens.
Vanderlei de Lima eventually managed a bronze medal after being shoved into the crowd by a former Irish priest, Cornelius Horan, during the latter stages of the race.
When I saw Lima sprint at the start of that race I thought that was a foolish thing to do  in a marathon but Lima defied all logic and kept going and going. With four miles to go, I was disappointed to see him being tackled after working so hard. After the tackle Lima looked like he wanted to shed tears.
The most memorable part was when Lima finally made it to the finish kissing the skies!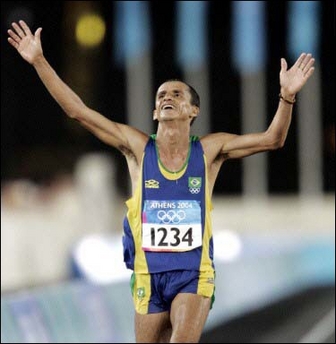 Picture courtesy of china daily
After the medal presentation, De Lima said: "If it were not for that lunatic, I am sure I would have won the gold.